Christmas is such a wonderful time of year! Whether you enjoy it in the snow or in a warmer climate, there's nothing quite like cozying up with some delicious gingerbread cookies, playing some holiday music, and wrapping presents under the glow of the Christmas tree.
Of course, the only thing that could make your celebration more special is printing out this free printable Christmas word search pdf and giving it to someone you love! There are so many puzzles of this kind out there, so when designing my own version I decided to create a word list that was festive but also included some of the religious aspects of this special holiday. I hope you enjoy, and have yourself a very Merry Christmas!
This word search is a large print puzzle, so it's easy to read. The PDF download is two pages and includes both the word search and solution page. Here is the link: https://rokopuzzles.com/wp-content/uploads/2021/12/Christmas-Word-Search-Download.pdf
Remember, you can just print the first page of a pdf. If you print out the whole thing, don't look too closely at the second page – that's where the answers are! 🙂
Download this illustrated puzzle for yourself or as a nice surprise for someone special! You'll find many popular words related to this festive holiday, including: candy cane, church, Jesus, manger, lights, ornaments, santa snowman, and many more!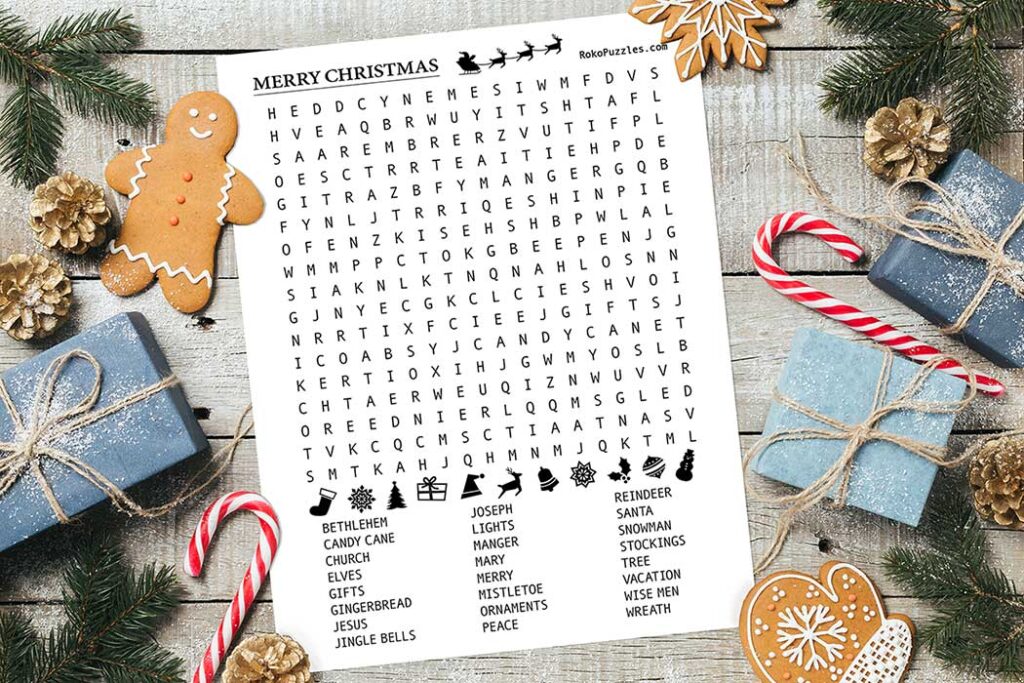 Please note – my holiday puzzles contain decorations to make them more festive. Decorative icons are not currently a feature in my word search books.