"May your blessings outnumber the shamrocks that grow. And may trouble avoid you wherever you go." –Irish Blessing
Saint Patrick's Day is a delightfully fun holiday full of shamrocks, leprechauns, and the color green. The celebration originated as a Roman Catholic feast in honor of Ireland's patron saint, Saint Patrick. It has since evolved into a largely secular event celebrating all things Irish!
One of the things that makes St. Patricks Day so much fun are all the traditions such as wearing green to ward off getting pinched by a leprechaun. Of course, if you're very lucky, you may also follow the rainbow to find that leprechaun's pot of gold! But even if you don't experience any special luck, you can still have a blast by wearing green and eating some corned beef and cabbage while a St. Patty's Day parade passes you by.
This word search is a large print puzzle, so it's easy to read. The PDF download is two pages and includes both the word search and solution page. Here is the link: https://rokopuzzles.com/wp-content/uploads/2022/03/St.-patricks-day-word-search-puzzle.pdf
Don't forget, you can always just print the first page of a pdf, to save yourself a little ink. If you print out the whole thing, don't look too closely at the second page – that's where the answers are! 🙂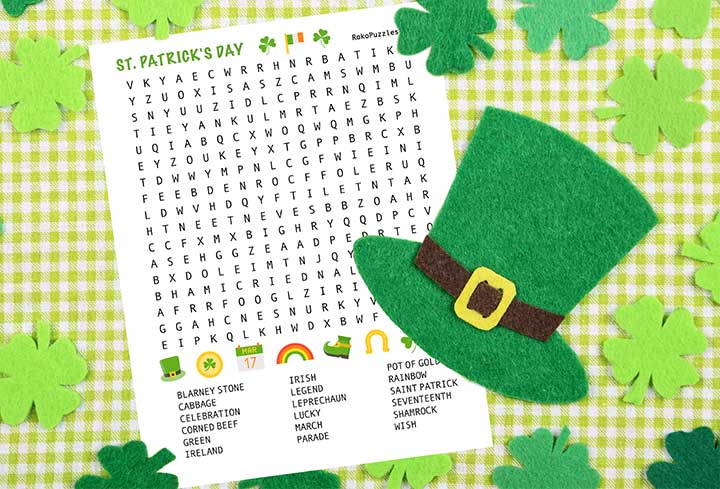 Please note – my holiday puzzles contain decorations to make them more festive. Decorative icons are not currently a feature in my word search books.