Hooray! So excited to share the launch of my newest game book. It's a Would You Rather book, full of fun, intense, awkward, gross, humorous and other kinds of outrageous scenarios! Think carefully, because you you have to choose only one of the two options. It may not always be easy to decide, but that's what makes this activity so much fun.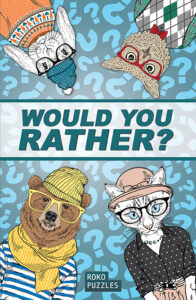 Copies are now available here: https://www.amazon.com/dp/B0C2S71B6R
Some of the reasons you may want to buy this book include:
200 thoughtfully crafted "Would You Rather" questions. This book has truly fun and unique scenarios that will make you think, talk, squirm, giggle, and laugh!
6″ x 9″ size is ideal for bringing with you to the beach, on a road trip, or to a sleepover!
Adorable hipster animals, illustrated by Olga Angelloz, adorn each of ten chapter headings.
Quirky variety of 'question mark backgrounds' on every page make this book engaging for kids and teens. Take a peek below…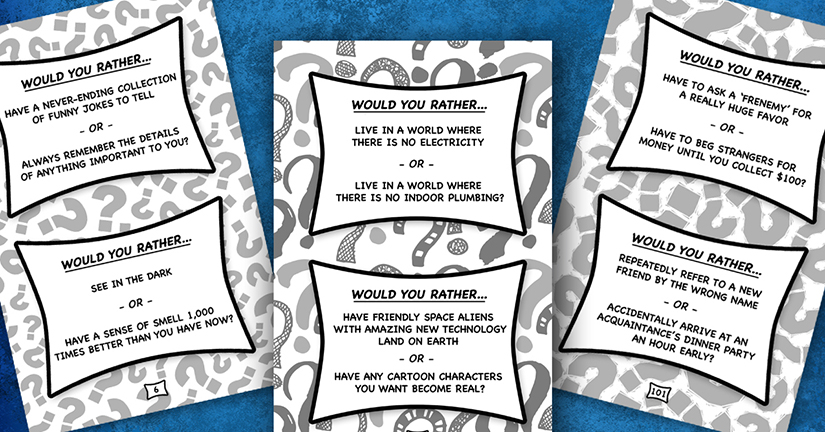 On a personal note, this books is very close to my heart. You see, somewhere deep within the COVID lockdown days, anxiety got the better of me. Things got rather dark for a while. There was a collection of ideas taped on a stack of cardboard cutouts that simply lingered untouched for the better part of three years. I'd look at the stack often, and the time came when my sense of purpose had drifted so far away that I really felt no desire to be creative. I had nearly no ability to be a part of anything at all!
If it weren't for all the family and friends who always touched base, reached out, and coaxed me along, I'm not sure how I ever would have found the light at the end of the tunnel. And now that I can see the sun shining and hear the birds chirping each day, it's a gift. My creativity slowly returned, as did the joy of feeling like I belong. I'm filled with such a sense of gratitude that I can share this book with the world. I truly hope it makes people talk and laugh, and that it adds many moments of happy togetherness to their lives.
Thank you.
The Would You Rather book described in this post was written and graphically designed by Marc Rokoff – ©2023