I'm so excited to share that the second Roko Puzzles word search book is now available! This second collection features eighty large print word searches, and has the same clear design and appealing font as the first book.
You can buy Volume 2 by clicking this link: https://www.amazon.com/Large-Print-Word-Search-Book/dp/B08KSLWNNQ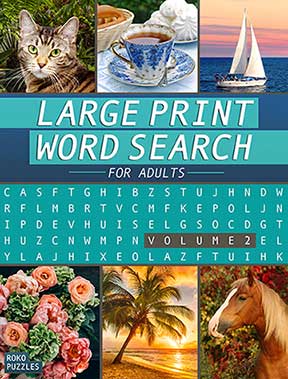 There's a wide variety of fun and interesting topics to enjoy here. Each page has a letter grid on top, with the words to find printed on the bottom. The final ten percent of the book has full-page letter grids, with the words shown on the left hand page. People have told me they liked that extra challenge in the first book, so I kept things pretty much the same.
As in Volume 1, there are tons of great words to seek out, and there's also a few related topics that are covered in two separate puzzles. For example, this book has one word search with Italian Cities and another with Italian Origin Words, which focuses on English words that originated from the Italian language. There's plenty for pet lovers to enjoy as well, with one page each for Popular Female Dog Names and Popular Male Dog Names. And another double-header includes a personal favorite of mine – cats! There's one Cat Breeds topic, which is followed up with a more general Cats word search.
There's far too many topics to list in this one blog post. Rest assured though, you'll have lots of variety, with additional topics covering Islands, Sailing, Espionage, Famous Painters, Inventions, Photography, Afternoon Tea, Horses, and so much more! I hope you consider grabbing a copy for yourself or someone you love.