Thanksgiving is day for friends and family to get together, enjoy great food, and take a moment to share a sense of gratitude! The origins of this holiday harken back to the first harvest of the Pilgrims after their arrival in North America, and the three day feast they enjoyed together with the Native Americans. And while perspectives regarding that "historic first" continue to evolve, there's no doubt that Thanksgiving has become one of the most celebrated days in the United States. Even many retail stores close for the occasion – and such closures are a rare phenomenon these days!
Perhaps the greatest benefit of this day is that it gives us a moment of pause to be with those we love, and to reflect upon the things we are truly thankful for. With that sentiment in mind, I share with you this this free, printable Thanksgiving word search! It's a large print puzzle, so it's easy to read. The PDF download is two pages and includes both the word search and solution page. Here is the link: https://rokopuzzles.com/wp-content/uploads/2020/10/Thanksgiving-Word-Search-Free-Printable-Download.pdf
Remember, you can just print the first page of a pdf. If you print out the whole thing, don't look too closely at the second page – that's where the answers are! 😉 No cheating, lol! 🙂
Go ahead and download this fun puzzle for yourself or for the puzzle solver in your life! You'll find many popular words related to this holiday, including: feast, parade, turkey, cornucopia, football, November, and many more!
Please note – my holiday puzzles contain decorations to make them more festive. Decorative icons are not currently a feature in my word search books.
Happy Thanksgiving!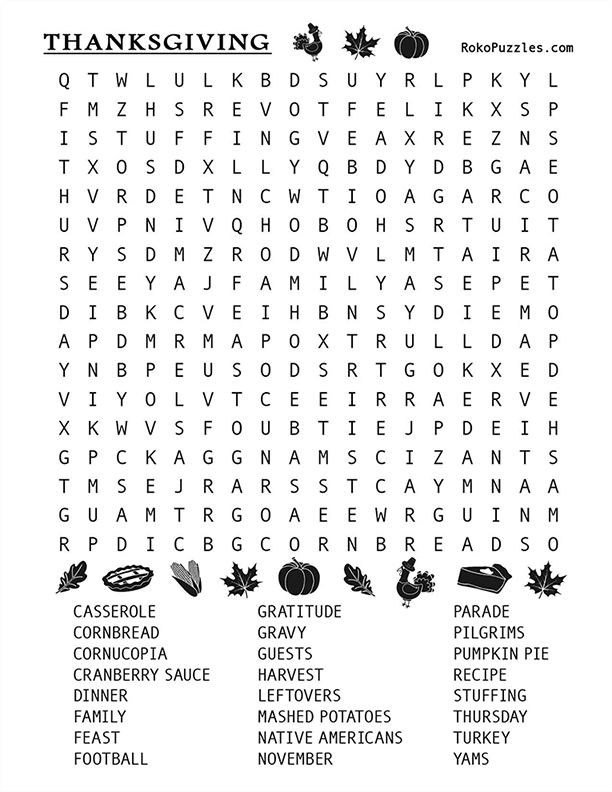 This word search is offered as a free puzzle that you may download and use for personal use. This Thanksgiving word search copyright 2020 by Marc Rokoff. All rights reserved.