The first of April is the day we remember what we are the other 364 days of the year. -Mark Twain
April Fool's Day is one of the silliest holidays of the year. Many people tend to overlook this annual event but there are plenty among us who love to get a little mischievous on April first. If you count yourself among the foolish, then you know that this is a day for good natured pranks, absurd jokes and lighthearted scheming.
This word search is a large print puzzle, so it's easy to read. The PDF download is two pages and includes both the word search and solution page. Here is the link: https://rokopuzzles.com/wp-content/uploads/2022/03/April-Fools-Day-word-search.pdf
You can always opt to just print the first page of a pdf if you prefer. If you print out the whole thing, don't look too closely at the second page – that's where the answers are! 🙂
I'm happy to say that I've switched to color icons starting with my most recent St. Patrick's Day word search! Hope you enjoy the change. You'll find many popular words related to this humorous holiday, including: prank, zany, silly, amusing, absurd, joke, mislead and much more!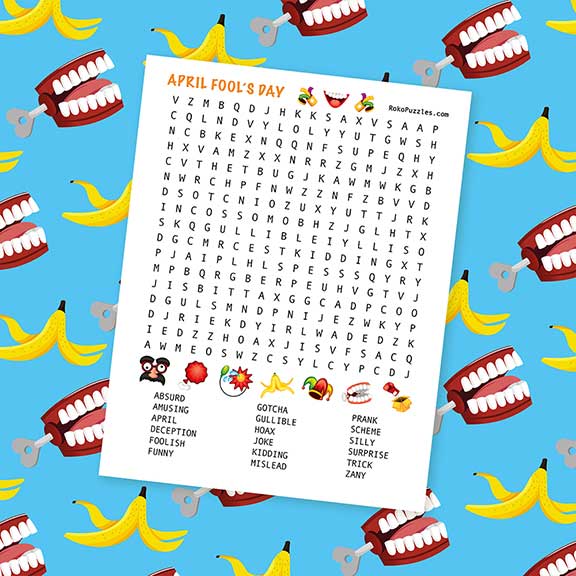 Please note – my holiday puzzles contain decorations to make them more festive. Decorative icons are not currently a feature in my word search books.