Hello! Happy Spring 2023! Welcome to the Roko Puzzles website. If you came here to download the five free word searches, just sign up for my e-newsletter (which is also free) by filling out the email form on this site. You will then be automatically subscribed AND redirected to the page where you can download the free puzzles. 🙂 The newsletter provides updates on new freebies, book launches, and other puzzle related info.
My newest book was just launched on April 30th! It's a super fun "Would You Rather" book filled with 200 original scenarios. Please click this link to read my blog post about this book: https://rokopuzzles.com/would-you-rather-book-launch/ Click on the image below to see it on Amazon.
Would You Rather book link: https://www.amazon.com/dp/B0C2S71B6R
Here are a few updated tidbits of information on other books and freebies!
A free large print St. Patrick's Day word search is available here: https://rokopuzzles.com/st-patricks-day-large-print-word-search-free-print-at-home-download/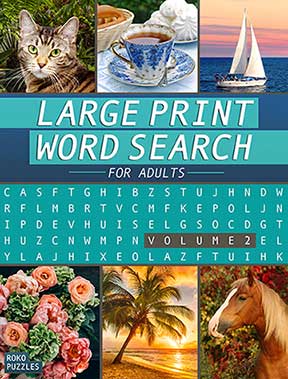 My second book of large print word searches, shown above, is available! Here is the blog post for more information: https://rokopuzzles.com/large-print-word-search-volume-2-book-launch/ If you want to go directly to the Amazon page, just click this link: https://www.amazon.com/Large-Print-Word-Search-Book/dp/B08KSLWNNQ
If you're new to this site, you might want to bookmark the "FREEBIES" page on this site. There's not a ton there yet, but I will be adding more printable puzzles from time to time. Please note, the puzzles on the freebies page are different from the 5 free word searches that you get when you sign up for the newsletter.
I hope life is treating you well. 😎 Thanks for visiting my website!!! –All the best, Marc R. 😀
Updated April 30, 2023